Vicki Bennett: Felt Maker, Fiber Artist, Teacher
Fairview, NC and St Petersburg, FL
vicki@tangledupinwool.com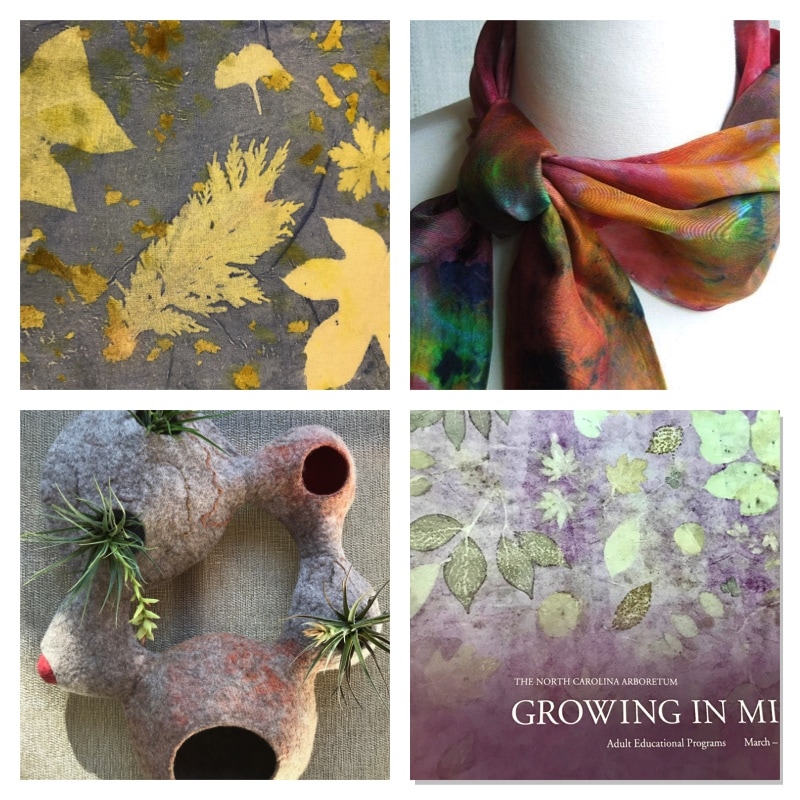 Classes and workshops-
Summer/Fall 2017
I'm backing off on my schedule a bit this year after doing the Local Cloth fashion show last year ( and also wanting to spend more time with those beautiful grands!) but here are some dates and classes and I''ll be adding more in the weeks to come…if you have a special request or would like me to come and teach near you, please email me at
vicki@tangledupinwool.com
May 27 Local Cloth, Asheville (localcloth.org)Eco-Print
Description: Learn to use leaves, flowers and other botanicals to create unique prints on cloth. This class was sold out in the fall, so we are very excited that Vikki is coming back to share her expertise and unique methods that result in beautiful, clear prints. (
Sorry, but this event is now sold out. You can join the waitlist and we will send you an email when additional spaces become available.
)
June 7 and 8, Local Cloth, Asheville (localcloth.org)
The New Landscape of 3-Dimensional Felt
Description: What lies beneath? In this class learn to create felt vessels and sculptures with portals, pathways and pop-ups. Students will master techniques that lead to durable 3-dimensional felt vessels with uniform seamless walls and then, through the use of resists, create further multi-dimensional surface design. The sculptural aspects of felt making will evoke the many landscapes of nature as we add hills, cracks, crevices and multiple layers of color.
July 15, The North Carolina ArboretumEco Printing
Description: Learn to print on silk fabric using leaves, flowers, and other botanical materials in this one-day workshop. Course will cover how to bundle and wrap your fabric and plant materials so that your prints come out clearly and with maximum color, how color shifting occurs in the dye bath, using mordants to assist the dye process and how different fabrics and techniques affect results. ((
Sorry, but this event is now sold out
.)
Sunday, Oct 8 - Saturday, Oct 14 John C Campbell Folk School (https://classes.folkschool.org/)
PRINTING NATURE ON FELT
Description: Learn to make consistent wool felt fabric with wet-felt techniques using wool top, prefelt, and silk. Next, with gathered plants and other natural dyes, "eco" print intricate designs and patterns on the felt yardage. You'll then use this fabric to construct projects of choice - bag, hat, pillow, or vest - with perfect images from nature. All levels welcome; no experience required. Only a bit of physical stamina for wet felting is needed.
October 25, 26, 27, 28 Southeastern Animal Fiber Fair, Asheville, NC (http://www.saffsite.org)
October 26Fiber, Nature and Texture: An Introduction to Eco-print dyeing
Description: Explore and experiment with the possibilities of printing botanicals on a variety of fabrics. Using plant materials we will learn how to best mordant fabrics to accept natural dyes, bundling methods for clear and colorful prints and how to combine techniques to create color shifting in the dye bath. Students will complete three pieces of yardage on silk and cotton. This class is for all levels
.
October 27
Felt Framed: Small Wall Pieces
Description: This new class is a fun opportunity to up your game with wet felt surface design skills. Combining wool fibers, pref-felts, silks and 3-dimensional techniques, students will create a small frameable work of art. Emphasis will be on blending and layering color, realizing design outlines and making durable felt that can be further embellished. Shadow box frames and framing instruction is included. Instructor will contact students in advance with suggestions for sketches and further information. This class is suitable for all levels although some experience with wet felting is useful. Materials fee includes shadow box frame.
​
October 28 (two sessions)
Make It- Take It Silk Scarf Dyeing
Description: Back by popular demand! Hop in for this fun and fanciful one hour class where students create a beautiful silk scarf. Brilliant colors, simple shibori techniques, permanent silk dyes. Leave wearing a completed scarf that will have your friends saying, "Really? You did that!?"