Tangled Up In Wool
Vicki Bennett, Feltmaker and Textile Artist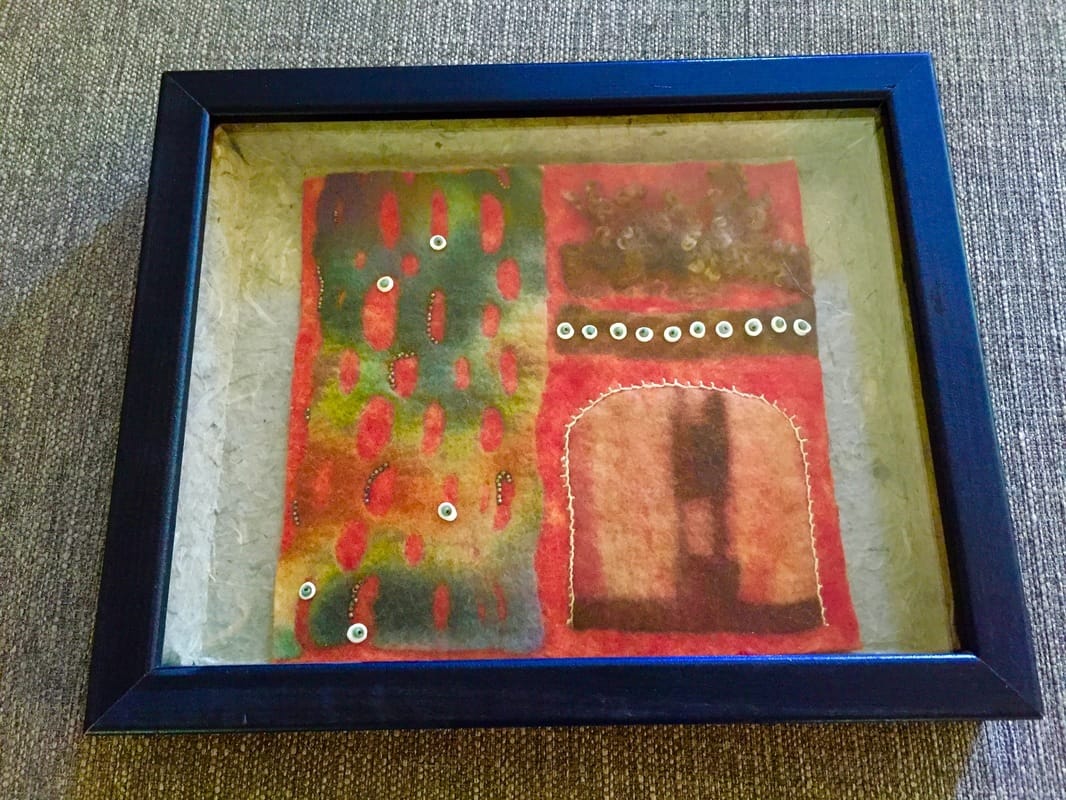 ---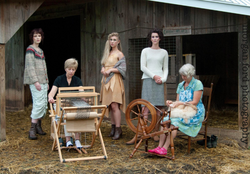 ---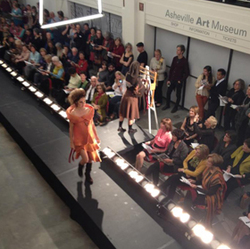 ---
---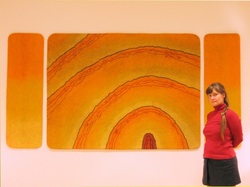 ---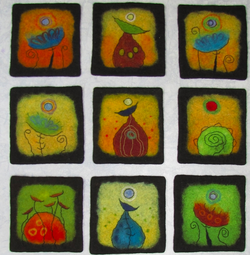 ---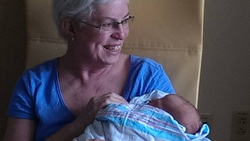 ---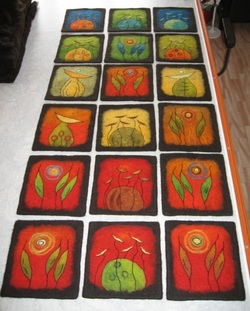 ---
---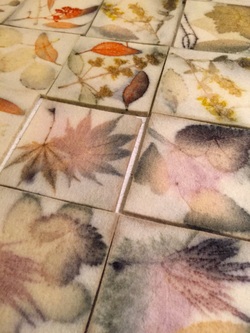 ---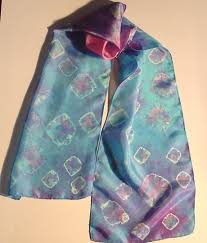 ---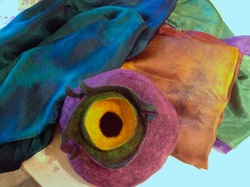 ---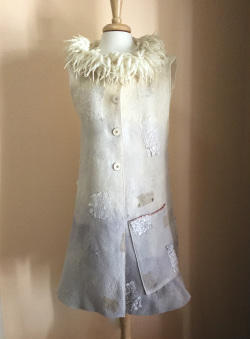 ---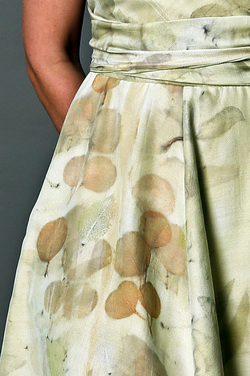 ---
Summer of 2014 I took part in an exhibition at the Florida CraftArt Gallery: The Art of Adornment. It was fun being the only fiber artist in an exhibit of primarily jewel and metal artists. There were some really beautiful works of art there. I gave a short gallery talk at the exhibit and it always surprises me how many people are out there who are mystified by felt making; it's easy to assume that everyone is busy tangling up wool!
---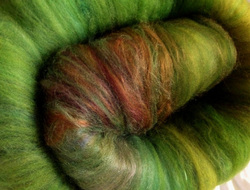 In October I was at SAFF and it's always great to see old friends, make new ones, teach classes and work in the booth. Tangled Up In Wool will be back this year, October 30, 31 and November 1 at the WNC Ag Center in Asheville. We will be in a new building and I'm looking forward to that. I will again be teaching and I'll keep you updated on specifics: promise!
---
Really? It's almost summer?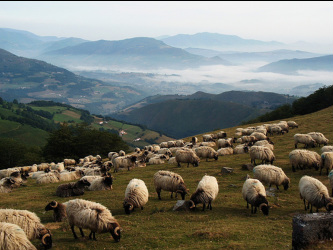 ---
'Tis the Season!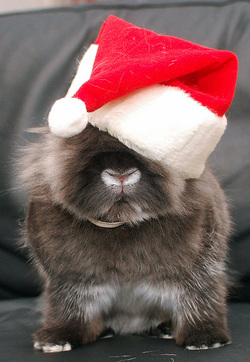 ---
Felt Christmas Trees!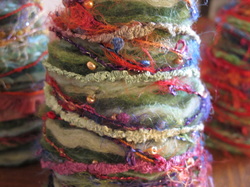 I'll admit right up front, these lovely felt Christmas trees are kind of like silk purses from sows ears. Like most fiber artists there are always those projects that just don't go according to plan and the result is a rubbermaid tub full of felted fiber that remains UFOs. Since I like to work in greens, it occurred to me that there was a lot of really beautiful merino and silk yardage just waiting for new life. These trees offer a gentle recycled reflection of the nature of the season. They are all hand felted, cut, sewn and trimmed with art yarn and unique torch fired glass beads at the top. Each one is different and they range in size from 3 inches to 10 inches. Priced 8.00-30.00, 40.00 for a set of three. Email for preferences and I'll send additional photos on request.
---
One of a kind felt brooch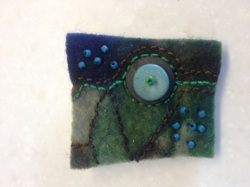 These beautiful felt brooches make a wonderful one-of-a-kind gift for that special friend, sister, mother. Friend and fellow feltmaker Paddy Lynch has painstakingly resist dyed hand made pieces of felt and then stitched and beaded them to perfection. 1.5-2 inches, they are precisely right for any ocassion. 25.00 each.
---
Snow people unite!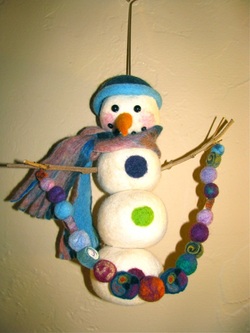 ---
The now famous 3-season wool felt hat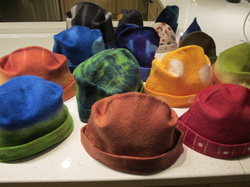 These are, heads down, the single best felt hat you'll ever own. They are very lightweight yet cozy and warm, incredibly soft and skin friendly with ultrafine merino wool and delightfully colored to your specifications. They are warm, they mold to your head, they stuff in your pocket, they fit under your bike helmet, they make a fashion statement on any trek out into the world. They rinse out with a light gentle wash and reshape perfectly. Could you ever ask for more from your hat? I hand felt and dye these after you send me an e-mail with color choice and head size. I make them from preemie to large. I'm proud of these simple little hats. I wear mine every single day. They are 32.00 with free shipping this month only.
---
Superfine Italian Merino Top!
I'm going to be using this merino top exclusively for my own merino felt work and I'll be making it available to all of my students. This beautiful line of merino, at 19 microns, is the loveliest I've ever worked with; it felts easily and has a lovely drape when worked into scarves and other wearable felt. The colors are absolutely vibrant and delicious and dye fast. I've made a dozen commissioned birdhouses with it this season and it has a smooth, sueded finish when used in 3-dimensional work. See below for available colors and also a photo of how beautifully this "pulls" for layout. 3.00/ounce and free shipping. (Now that's a deal!)
---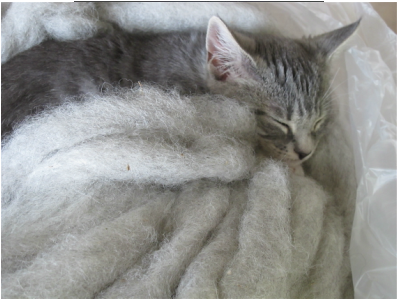 ---